20 October 2012
UAE RMC Round 2 RACE REPORT
The second round of UAE RMC was initially threatened by man's not-so-oldest foe. Not fire nor the Healthy and Safety executive, but the wind. A blustery morning threatened to annihilate the awning community and leave the drivers and mechanics exposed to the blitzkrieg of the fiery sun all day. Thankfully someone waved their magic wand and before the day had got too old the wind became a gentle autumnal breeze. It was most pleasant. The tweeting birds and rolling hills were soon however drowned out by broken exhaust baffles, side pods crunching into each other and barriers being smashed into a fine dust. There were some winners, some losers and some just happy to be there. But who are they? Well…
Mini MAX & Micro MAX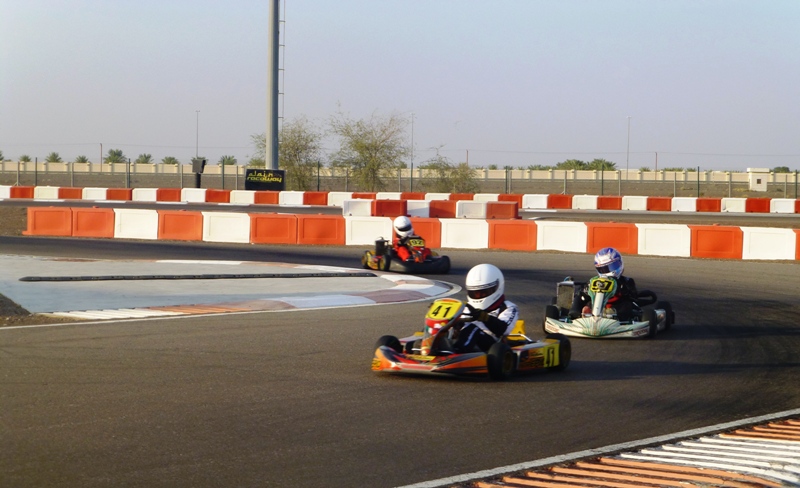 There were 4 Mini's and 3 Micro's, which for the less mathematically astute equals a total of 7. The Mini MAX class had been dominated all day by Tehmur Chohan and he began the final from Pole Position. As per Mini MAX tradition there were a few attempts at the start but when we got it right Tehmur wasted no time in covering his inside line. Zach Robertson, Alain Bauwmans and Ivan Berets lined up behind him. In the early laps Tehmur was unable to pull away from the pack but by half distance the battle for second between the other 3 drivers started to hot up. Alain was riding in second place until Zach made a clean pass into the penultimate corner. Alain fought back and re-took second into the first corner and this pattern remained. The squabbling allowed Tehmur to ease out a gap which saw him comfortably leading by 3 seconds. Zach eventually made it by Alain for good but by this point Tehmur was 5 seconds clear and crossed the line to take the win. Zach, Alain and Ivan finished in that order and remarkably all set best lap times of 1:02.5's. Go on, argue with that.
The Micro MAX class was dominated by Sem Knopjes once more. The time gap between the Micro's to the Mini's is larger at Al Ain Raceway than it is at Dubai Kartdrome on account of the higher speeds, but Sem was only 5 seconds off the pace of the Mini's. He won, beating Yusuf Moola who put on a tremendously improved performance. Sachio Kekati overcame a mechanical defect on the grid to start and finish in third place.
Mini MAX Result: 1st Tehmur Chohan 2nd Zach Robertson 3rd Alain Bauwmans
Fastest lap: 1:02.248 Tehmur Chohan
Micro MAX Result: 1st Sem Knopjes 2nd Yusuf Moola 3rd Sachio Kekati
Fastest lap: 1:07.887 Sem Knopjes
125 JUNIOR MAX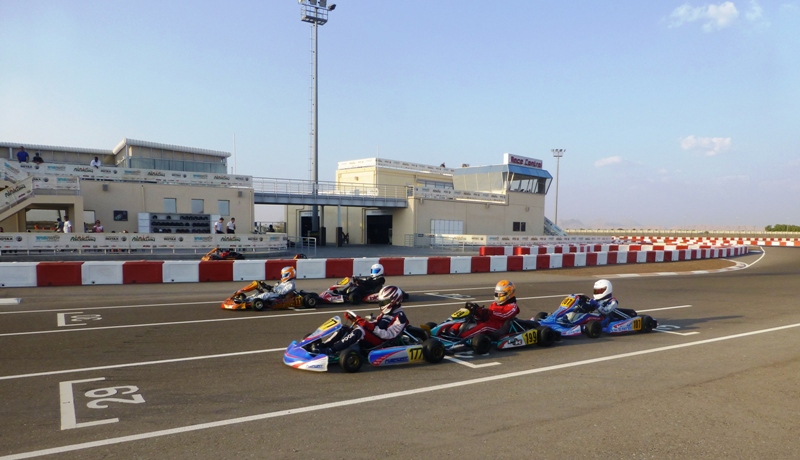 It was a peaceful if somewhat processional affair for the Junior MAX class; officials heaven if you like. Pasqual Pook had been governing the field al day and easily planted his kart on Pole Position for the final. You can never take anything for granted and Pasqual knew that a win was not a certainty. At the start he held the inside line to thwart any potential threat from his rivals and he emerged from turn 1 in the lead. Guilio Peroni, Taymour Kermanshahchi, Sebastian Seeling and Antoine Pelegry ran behind him in that order. Pasqual soon turned up the wick and started to edge out a small gap. Guilio was running strongly in second place but by the halfway point Taymour had reeled him in and battle soon commenced. Guilio knew that Taymour was on his tail but such was his confidence in the kart that he didn't feel the need to cover his inside; as such he remained on his line. This would give Taymour the signal that he would have to attack if we wanted to get by. Taymour lined himself on the inside on several occasions but just couldn't quite outbreak Guilio. It was a fantastically professional fight. Minus one small tap by Taymour into the last corner – for which he apologised for immediately – it was totally incident free. Guilio crossed the line second with Taymour only 0.1 seconds behind. Sebastian Seeling drove another improved race and came home in fourth place ahead of Antoine Pelegry, who after a minor off-track excursion on lap 1, came home in fifth. But the day belonged to Pasqual who crossed the line victorious.
Junior Result: 1st Pasqual Pook 2nd Guilio Peroni 3rd Taymour Kermanshahchi
Fastest lap: 58.875 Taymour Kermanshahchi
125 MAX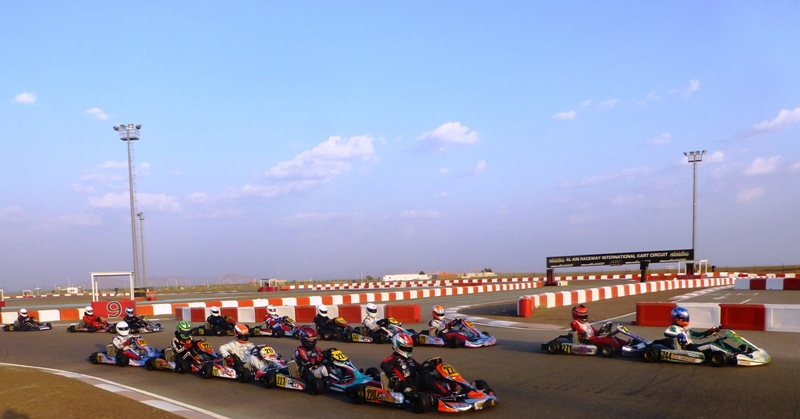 Busy, busy, busy, again. Action, drama, breakdowns, crashes. Where do we start? How about the start itself… At the lights there was a massive roar engines and 21 drivers vanished into turn 1. Some drivers crashed, some didn't. By this point Ameer Hassan was leading from Abdullah Al Rawahi and Walid Al Qassemi. Abdullah had Ameer matched and rode close to his rear bumper. Walid was running a second behind them both with Alexandre Silanine and Piers Pakenham-Walsh in close proximity. Errr… Then…Abdullah got like, really close to Ameer and overtook him for the lead. Then they were racing each other really closely. It was competitive stuff. Philippe Valenza was making up ground from the mid-pack and closing on Piers when Piers started to slow down. Plagued by a mechanical defect, most likely electrical, Piers nursed his ailing kart home. Philippe had got by Alexandre and was attacking Walid for third. Coming out of turn 1 on lap 13 of 14 Walid covered his inside and Philippe stayed on the outside. With neither party wishing to concede the corner the pair then collided, forcing Walid into retirement and resulting in Philippe being demoted down the order. Thinking that that would be the crescendo of the drama was a mistake. Also on lap 13, Ameer cleanly passed Abdullah to retake the lead but Abdullah fought back into the final corner and the two made contact. Ameer rolled backwards through the barriers but quickly pulled away again remaining in second place but Abdullah took longer to get going and ended up finishing in 9th. So out of the original top 7 there was only one driver who was able to stay out of trouble and a result was able to cruise to much deserved victory to the applause of the crowd; Alexandre Silanine. Ameer followed him home in second and Tom Walker crossed the line in third place, much to his surprise and delight.
As far as the Masters class was concerned, Walid Al Qassemi will be ruing the incident on lap 13 as he was robbed of certain victory. But on account of his third overall, Tom Walker was the highest placed Master, beating Masters point's leader Kevin Day – who incidentally was 4th overall. Thankfully Raed Hassan stayed out of trouble in the final and as a result was gifted 6th overall and 3rd in class.
125 MAX Result: 1st Alexandre Silanine 2nd Ameer Hassan 3rd Tom Walker
Fastest lap: 58.422 Philippe Valenza
Master Result: 1st Tom Walker 2nd Kevin Day 3rd Raed Hassan
DD2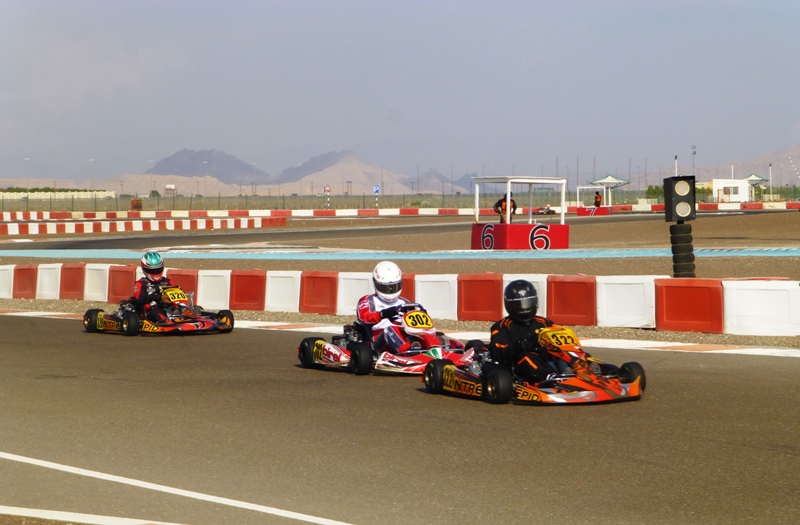 In the words of a street Londoner, the DD2 final was "proper". Indeed it was a proper race. It had it all, overtaking, more overtaking and then even some more overtaking. The best part about it was that the drivers didn't need to smash 12 bells out of each other to do it. It proved popular. As predicted, the final was going to be anybodies guess with Sanad Al Rawahi, Maurtis Knopjes, Oliver George, Mohammed Al Dhaheri and Arnaud Bouf all in with a chance. Maurits led briefly at the beginning but was soon deposed by Sanad. Maurits was forced wide and lost a few places. Oliver George and Mohammed Al Dhaheri then proceeded to fight tooth and nail with one another. Beardy Jarjour had got by Arnaud with Jonathan Mowatt right behind. Maurits was tussling his way back up through the field and after some superb mini-battles with both Oliver and Mohammed found himself up in second place. Mohammed refused to give up and started to attack Maurits, but the Dutchman was able to cover himself. Oliver, by the dying stages, had dropped a second to the fight for second and was having to watch out what was going on behind him. Patrick was on a late race charge with both Arnaud and J-MO both on his tail. All the fracas became too much to remember but the action allowed Sanad to breeze across the line untroubled 3.5 seconds clear. Maurits finished a hard-earned second with Mohammed in third a further 0.5 seconds back. Oliver came home fourth 2 seconds behind Mohammed, and he was in turn 1.1 seconds clear of Patrick, Arnaud and J-MO, who was only parted by tenths. Hussain Umid Ali was 8th but later disqualified for being underweight thus promoting Tony Hogg. Maurits was the top DD2 Master ahead of Beardy Jarjour and Arnaud Bouf.
DD2 Result: 1st Sanad Al Rawahi 2nd Maurits Knopjes 3rd Mohammed Al Dhaheri
Fastest lap: 57.272 Mohammed Al Dhaheri
DD2 Master Result: 1st Maurits Knopjes 2nd Patrick Jarjour 3rd Arnaud Bouf
Honda Challenge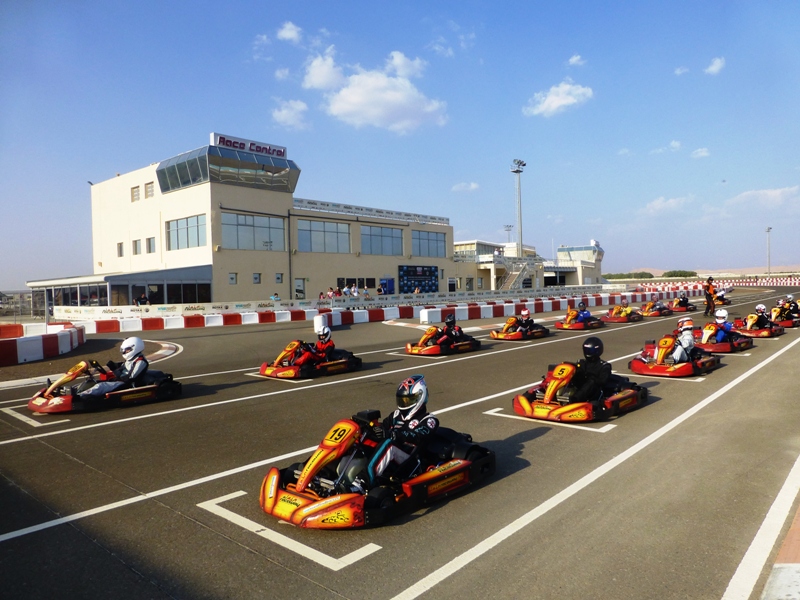 I'll be honest with you; I can't really remember what happened. Still, that hasn't stopped me before so I'll give it a go and you can email me at automaticllydeleteditems@alainraceway.com if I'm wrong. To make things better this year, the Honda class are weighed up to be sort of even. Anyway, Hussain Umid Ali, Sam Zian, Atef Al Barwani, Dan "fastest in the Pre Final" Price, Chris Coles, Moeen Al Sarraj, Piers Pakenham-Walsh, Carlos Do Vale and Ahmed Al Shamsi all walked into a Pit lane. One said to the other "ok, let's race and not smash into each other", and then they all shared a laugh. Nah it wasn't that bad. From the standing start there was quite literally a lot of jumping up and down and all the above names entered one of the closest races seen this year. It is impossible to document all the action but Hussain was leading for a while before Sam did. Atef – even with bits of barrier sticking out of his head – also had a few moments in the lead. Dan didn't, but he was the fastest driver in the earlier Pre-Final if that is any consolation. There was a lot of slip-streaming and overtaking, and even a spot of some weaving too, but all things considered it wasn't that bad as no one ended up in the wall, this time. Anyway, through various circumstances Sam crossed the line victorious a mere 2 tenths clear of Atef who was another 2 tenths clear of Dan, who, in case you didn't know, was the fastest in the Pre Final. Hussain, after having dropped to 8th came back to finish 4th ahead of Chris and Moeen. Piers finished 7th ahead of Carlos and Ahmed. The top 9 were only covered by 5 seconds. Must be down to how good the karts are…
Honda Result: 1st Sam Zain 2nd Atef Al Barwani 3rd Dan "Pre Final" Price
Fastest lap: 1:13.887 Atef Al Barwani
Bambino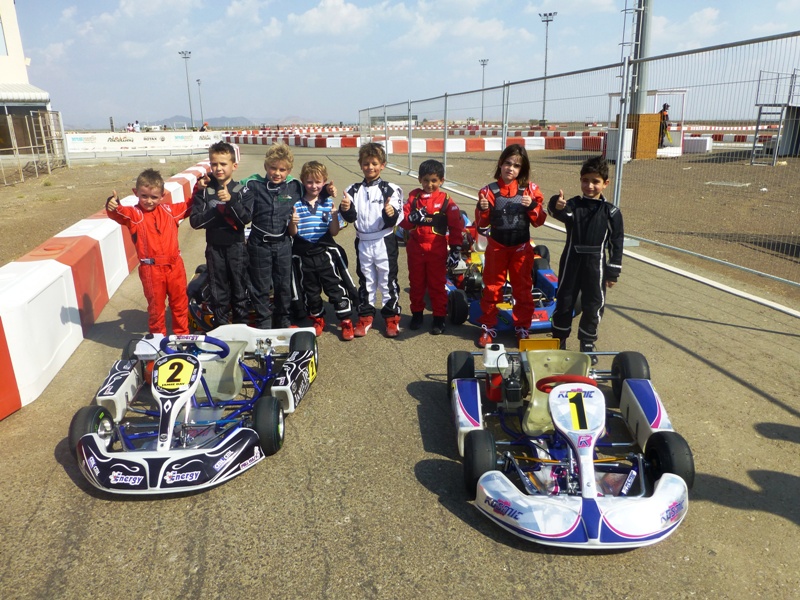 Of course through all the winning, the losing, the crashing and the sunburn, the biggest talking point on Friday was the inaugural run of the Bambino class. Astonishingly there were 8 drivers which for a first-time competition is fantastic. As the class is aimed at 5-7 year olds who don't have to sit an ARKS test, the competition is run in the form of a time trial as opposed to a race. There was a morning practice followed by 2 time trial runs. To add an element of competition to it, drivers lose points for various offences, like losing a point for spinning or 3 points for making contact. Everyone seemed happy with it, none more so than the drivers themselves. Ziggy Kermanshahchi was the fastest driver overall with a best lap of 1:31.240. Theo Kekati was second with a best time of 1:31.822 and Hamish Foster was third with a 1:31. 976. Jamie Day was fourth with a 1:32.375 and Gaia Eichenberger was 5th with a best time of 1:35.618. Georgie Zouein was 6th fastest with a 1:36.846 ahead of Ethan Walsh with a time of 1:37.292 and Saqir Al Qassemi with a best time of 1:37.299. The class rules have been kept simple as this has not been designed to pit the parents against each other in a fight for glory, but for the young drivers to enjoy themselves and to hone their skills for the future. It's important that the ethics behind the Bambino class are not forgotten. A big well done to all the drivers who conducted themselves brilliantly!
Right, I think that's it. I don't think I left out any classes. I'm sure you'll tell me if I got anything wrong. So to summarise, Round 2 wasn't a vintage round and there is room for improvement. Let's hope that Round 3 is incident free and that we can get back to the superb driving standards that we witnessed at the season opener. We would like to thank the Chief Steward; Mike Wilkes and Chief Scrutineer; Lazar Jotev for their efforts, along with Nikita Miliakov who donated his services on the Pre-Grid. A round of applause should also go to Guy Sheffield who works extremely hard behind the scenes to keep people as happy as is realistically possible. Just don't mention the tyres…
Martin Fullard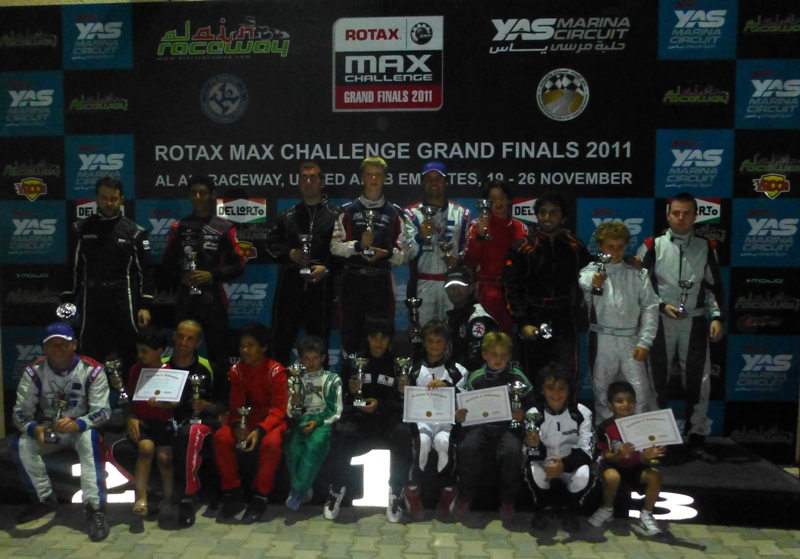 The drivers of the day and some very reflective stickers
* Please note Dan Price (far right). He was fastest in the Honda Challenge Pre-Final.