23 March 2013
UAE RMC R11 Short-Review
UAE ROTAX MAX CHALLENGE 2012-12 ROUND 11
Throughout Friday 22nd and Saturday 23rd March 2013 Yas Marina's North Circuit played host to the UAE Rotax MAX Challenge and Round 11 [Saturday] provided some of the best racing of the season.
The series reverted to a special 'random grid' format whereby competitors are allocated grid slots randomly in 3 qualifying Heats, the aggregate results of which determine starting positions for the Final race. This replaced the standard qualifying format and meant that faster drivers did not always start from the front, making for some outstanding racing.
Fresh from a clean sweep of victories on Friday, Maurits Knopjes was the firm favourite in the premier DD2 class. Despite dominating Friday's racing he came under intense pressure from championship contenders, Oliver George and Sanad Al Rawahi. George tailed Knopjes from the start and threatened to cause an upset before fast-finishing Al Rawahi distracted his attentions by closing up with only a handful of laps remaining. George's attack suddenly turned to defence allowing Knopjes to pull clear and take the win by 2 seconds. George held firm to take second with Al Rawahi in third place. Victory also ensured that Knopjes claimed maximum points in the DD2 Masters category ahead of Patrick Jarjour and Jonathan Mowatt, who delighted the crowds throughout the Final in a fine demonstration of hard, sporting driving.
The battle for honours in the MAX Master category was equally intense. After a poor start, Duncan Foster recovered to catch and pass both of his main rivals, Raed Hassan and Walid Al Qassemi, in the closing stages of the race. Al Qassemi held off Hassan's advances to claim second.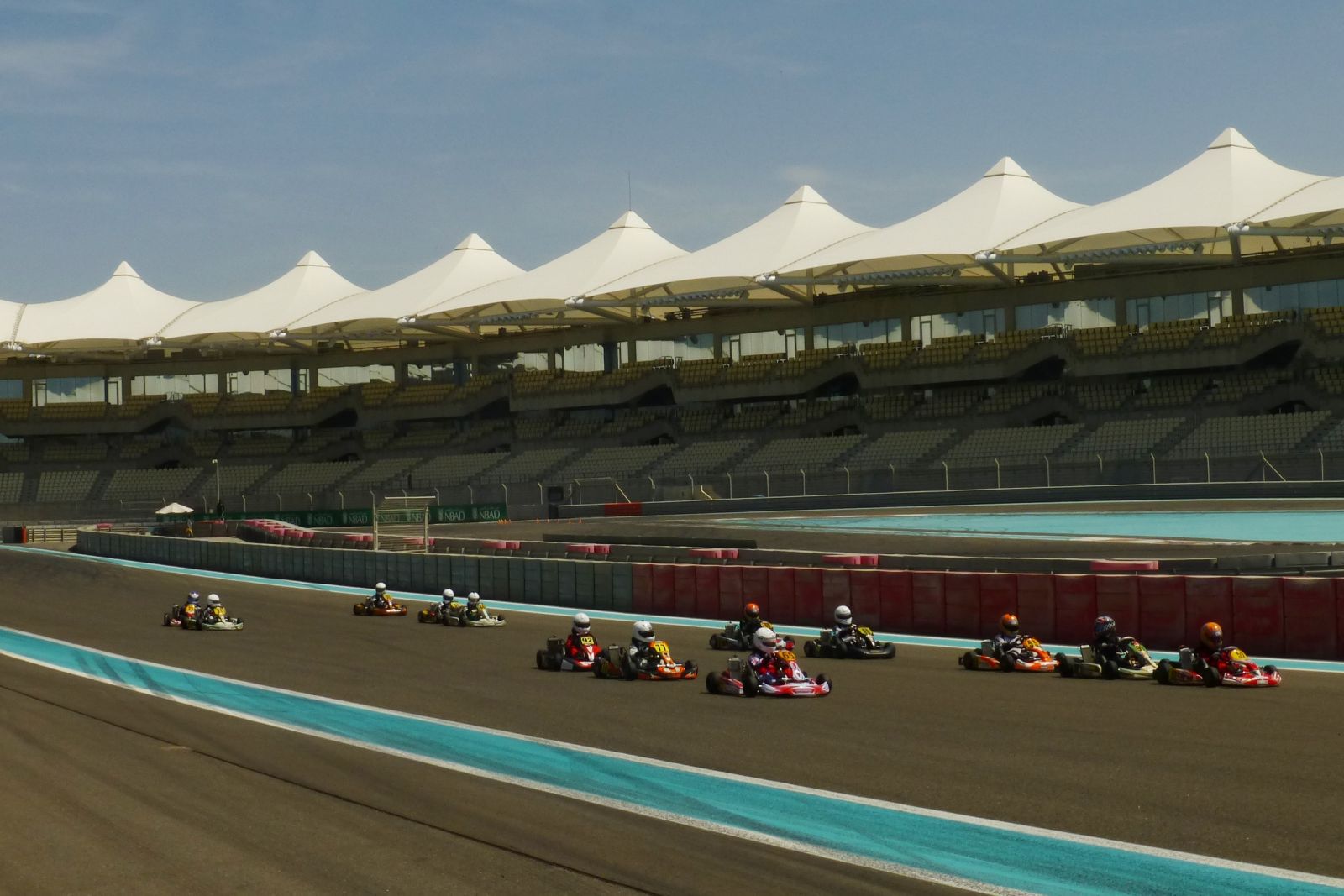 Ahead of them on the track, Abdullah Al Rawahi drove a solitary race to third overall in the Senior MAX class. He showed good pace in the early stages but was unable to live with Philippe Valenza and Ameer Hassan and dropped back gradually throughout the Final to finish four seconds down. Valenza had led the race from the start but Hassan closed up with four laps to go and finally made his move on the last lap with just two corners remaining. Valenza fought back and the two crossed the line side-by-side with Hassan being awarded the win by 0.06 seconds!
It was equally competitive in the Junior MAX category throughout the race day with four different drivers staking their claim on a possible victory. Taymour Kermanshahchi led away from Pole Position with Giulio Peroni taking advantage of Pasqual Pook's poor start to steal second ahead of Pook and Sebastian Seeling. As Peroni defended Kermanshahchi was able to open up a two second lead that he would never relinquish. Pook battled hard past Peroni and began to make in-roads into the leader but a sequence of quick laps from Kermanshahchi maintained the gap and saw him take the winner's trophy. Seeling and Peroni pressed hard to the flag but Pook held firm for second with Peroni and Seeling third and fourth respectively.
Tehmur Chohan and Alain Bauwmans were the class of the Mini MAX field throughout the weekend and Saturday's Final was no exception. Chohan took the lead from the start but was hounded by Bauwmans for the entire race. Behind them Yahya Houston was having a tough time defending third place against Ivan Berets and Amir Dargahi. As the lead pair entered the final lap, Bauwmans made an ambitious move at the first corner which resulted in contact and both Chohan and Bauwmans spinning off the track. Bauwmans recovered first and set off but, in a show of true sportsmanship, waited for Chohan to retake the position that he had lost unfairly.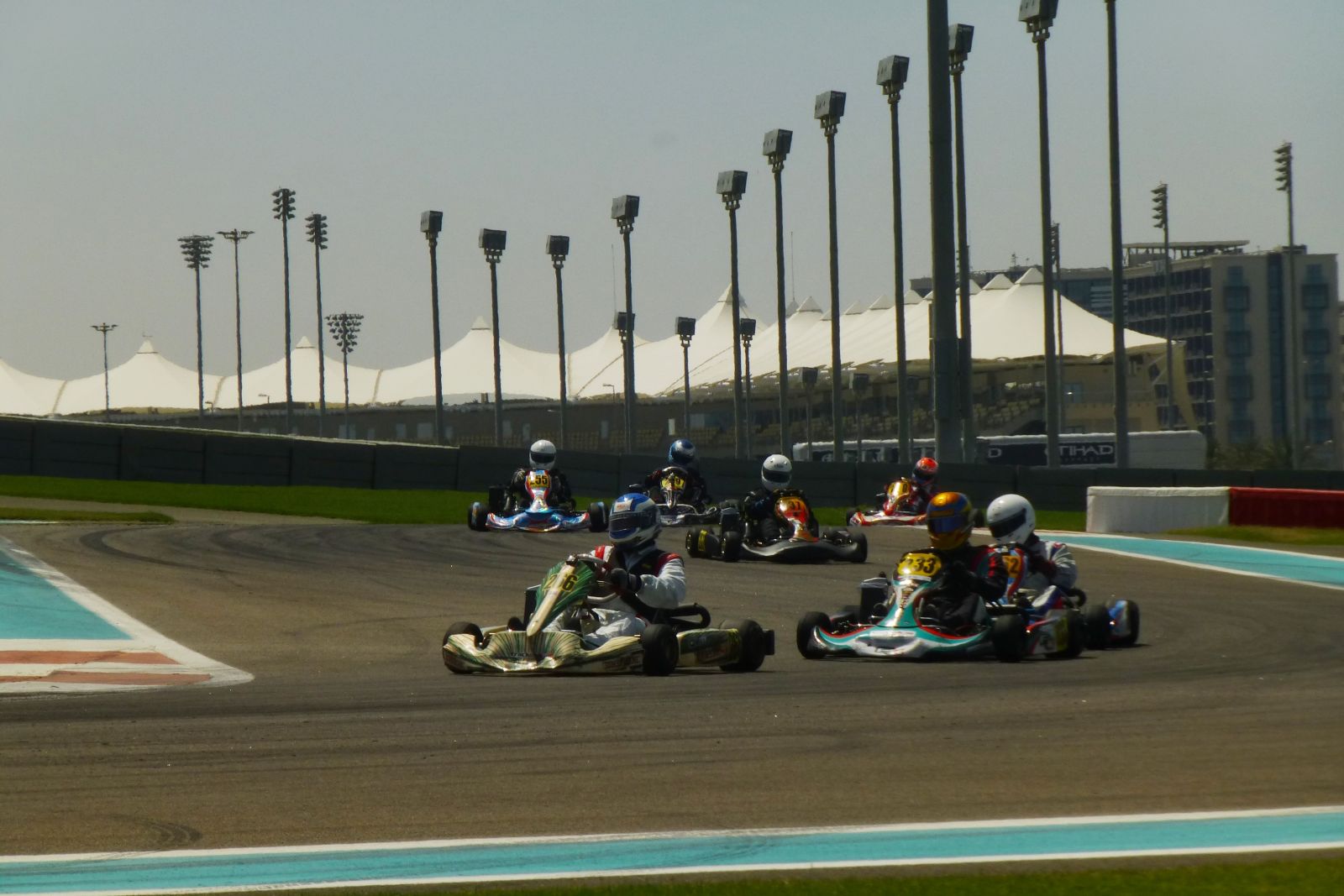 This collision allowed the chasing pack to challenge but Chohan held on to secure the win by just 0.1 second from Bauwmans, with Houston following closely.
During the Heat stages Ziggy Kermanshahchi and Yusuf Moola had shared the spoils in the Micro MAX class with Kermanshahchi lining up on Pole Position and Moola alongside. Sem Knopjes and Theo Kekati made up row 2 ahead of Ziyad Houston. Kermanshahchi opened up a small lead at the start and was never to look back, claiming victory by almost 4 seconds. Moola headed Knopjes closely in the early stages but gradually moved away to capture second position. Knopjes finished third ahead of Kekati and Houston.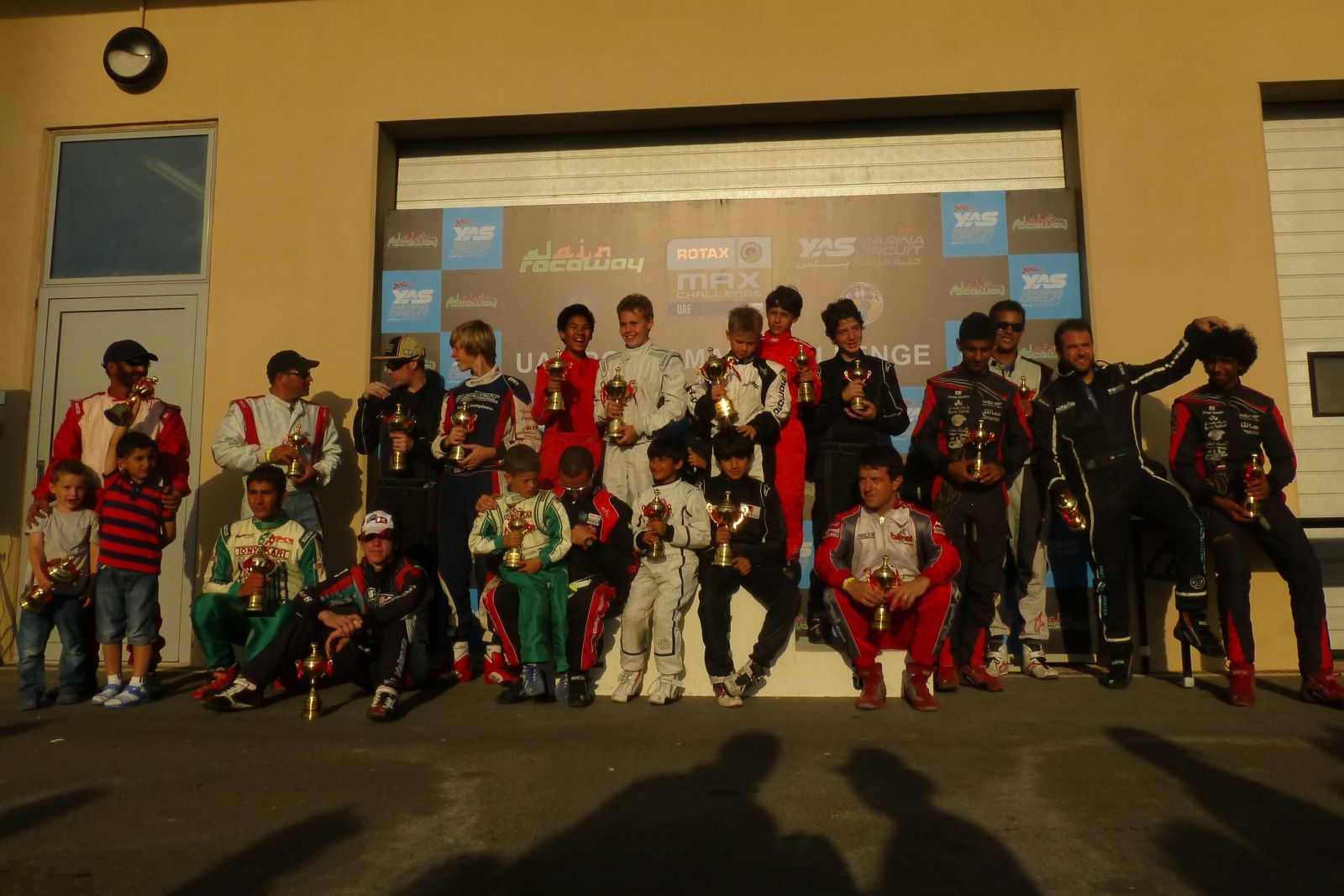 The series heads to Al Ain Raceway for the season finale on 12th and 13th April 2013 where all class championships will be decided.