Al Ain Raceway Hosts The Rotax MAX Challenge Grand Finals 19 - 26 November 2011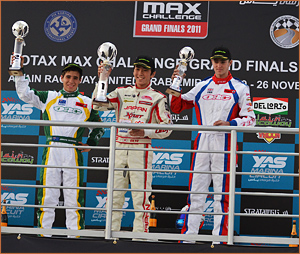 Al Ain Raceway, Saturday 26 November brought the 2011 Rotax MAX Challenge Grand Finals to an exciting close, with sensational driving in the four classes.
Guy Sheffield, General Manager of Al Ain Raceway said, "It has been a fantastic event this year. The feedback from the drivers and their teams has been terrific. They all love the track and the facilities we offer at Al Ain Raceway. 264 drivers from 57 countries is a lot to handle, but the results make all the hard work and long hours worthwhile.
Winners were as follows:
Category
Power
Age
Winners
Country
Rotax Junior MAX
20.4 hp
13 - 16 years
1 Ukyo Sasahara
2 Joseph Mawson
3 James Singleton
Japan
Australia
United Kingdom
Rotax Senior MAX
28.5 hp
15 years & older
1 Ben Cooper
2 David Sera
3 Hirotaka Sasaki
United Kingdom
Australia
Japan
Rotax DD2
32.6 hp
2 speed gearbox
15 years & older
1 Pier-Luc Ouellette
2 Jason Pringle
3 Georg Vann
Canada
Australia
Estonia
Rotax DD2 Masters
32.6 hp
2 speed gearbox
32 years & older
1 Cristiano Morgado
2 Danny Brand
3Guillaume Berteaux
South Africa
Belgium
France
Nations Cup
1 Australia
2 Canada
3 South Africa
Ukyo Sasahara won his first title in 2009 in Egypt and is also the current EuroChallenge Champion
Christiano Morgado was a Rotax Max World Championship winner in 2004
Ben Cooper previously won the Rotax Senior MAX in La Conca in 2008
Pier-Luc Ouellette was Rotax MAX D2 Champion at Al Ain Raceway in 2007

Antonio Kekati, Managing Director of Al Ain Raceway said, "Throughout the week we have seen some very competitive racing of a high standard. The winners on the podium this evening are indeed worthy of their trophies."
Kekati continued, "We are naturally disappointed that Team UAE did not achieve the results we would have liked, but that is the nature of the sport at this level: timing and luck play a significant role to success. However it has given them a foretaste of what they need to do in future Challenges."
Antonio Kekati summarised the week by adding, "This year we have certainly surpassed the successes of the 2007 Championship held here, and look forward to hosting the Grand Finals again in the near future. We thank our sponsors, Yas Marina Circuit, Strata and Tawazun for all their support. We wish all the drivers, their team members, family and friends a safe return to their home countries.